My Kind of Holiday
November 17, 2013
This post is brought to you by Target, however all opinions and content are my own. If you want to see more inspiring stories and holiday fun, follow along with #mykindofholiday.
It's the most wonderful time of year as well as my complete favorite. I am thankful for the fact that we get a day out of the year that allows us to eat too much as well as enjoy some quality time with our family and friends. Over the last few years, thanksgiving has been spent with my fiance, future in laws, our good friends, my grandparents, and my parents/brother. I have found that it can be hard to share the holidays when you're so accustomed to one thing so it's a really big blessing that our family's get along so well and can celebrate them together. In fact, on November 24, 2012 just a few days after Thanksgiving last year E proposed to me and I was beyond thrilled to be able to share that moment with both of our families.
Everyone has their holiday traditions and my family isn't any different. Our Thanksgiving traditions have really became a holiday staple and are ones that I hope will continue to be a part of our family for generations to come. The first tradition is that the man of the house is always the one to carve the turkey. It wouldn't be Thanksgiving without a turkey and who better to carve it then someone who does it year after year right? It also isn't Thanksgiving without a pretty platter to display that turkey on right?
Secondly, my mother in law tends to go all out when it comes to the table setting and decor. You bet you'll find the fine china being used as well as some unique fall themed linens. It doesn't get much better than shopping around and creating the perfect table setting year after year.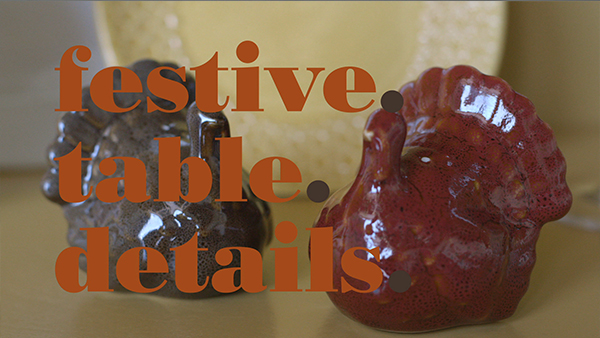 One thing that I really like although not a tradition is getting to enjoy a nice cocktail or two with my family. I might be a bit biased, but I think that my whiskey eggnog is quite delicious, however, I'm really looking forward to trying out a peppermint martini this holiday season. What is your favorite holiday drink?